Did you know that heating and cooling account for over half of the energy use in most U.S. homes?
While you may believe you're being mindful about your energy use because you chose a good HVAC system and you carefully program your thermostat, the truth is, having effective home insulation is a key to reducing energy waste and lowering your heating and cooling bills. 
In addition to our roofing expertise, at Hollister Roofing, we have years of experience as attic insulation contractors. 
From giving you tips on the best attic ventilation steps you can take, to choosing the best insulation for your attic, we have all of your attic insulation and ventilation needs covered!
Here are just a few of our attic insulation services…
Attic Insulation
Heat naturally wants to escape to cooler temperatures. 
This means that in the winter, your warm air tends to migrate outdoors.
But in the summer, heat from the outdoors moves into your home. 
By properly installing the best insulation for your attic, you can reduce this heat transfer, give your HVAC system a break, and save on energy and money at the same time.
Attic Ventilation
Proper attic ventilation is just as important as attic insulation. 
Not only does good ventilation aid in reducing heat transfer, but it also ensures no moisture, mold, or poor quality air build up in your home.
Radiant Barrier
While it's true that your roof protects you and your home from the elements, it can also be a major source of energy loss. 
If your roof itself isn't insulated properly, it can facilitate the entry of heat into your home. This causes your HVAC system to work much harder than it needs to. 
A Radiant Barrier is a material installed by an attic insulation contractor that reduces heat transfer to aid in the efforts of your air conditioning system and save you on energy costs all at once.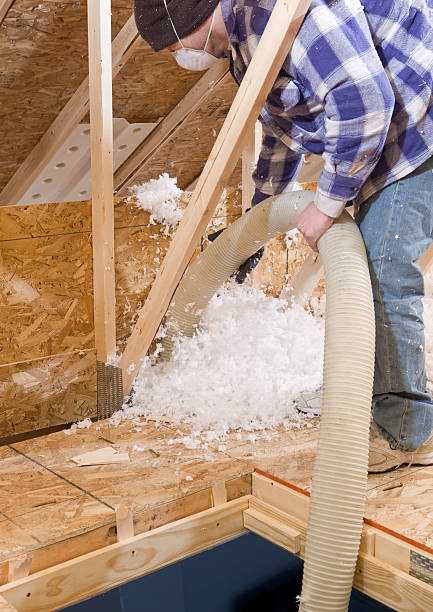 Why Is Attic Insulation Installation So Important?
When you think of your attic, you may just assume it's only function is to store old memorabilia and last year's holiday decorations. 
But in reality, your attic is an important barrier between your home and the heat, humidity, and cold elements that are outdoors. 
The majority of homes in the United States have uninsulated attics, which translates to excessive amounts of money and energy wasted on heating and cooling costs every year. 
In addition to all of that wasted cash, here are a few reasons why the attic insulation contractors at Hollister Roofing encourage all homeowners to insulate their attics:
1. Better Air Quality
It's not uncommon for outdoor pollutants like dust, mold, and mildew to enter your home through leaks in old insulation, and it's even more likely that these contaminants are floating around your home if you have no insulation in your attic. 
By insulating your attic you ensure that the air quality in your home remains cleaner and healthier for your whole family to breathe. 
2. More Comfort
Even homes with great HVAC systems have to fight against the natural tendency of heat distribution. Adding quality insulation to your attic is a great way to ensure your home temperatures stay comfortable and consistent. 
3. Safer Home
Most people don't realize that insulating your attic can actually help protect your home and keep it structurally sound in the long run. 
Uninsulated attic spaces allow water vapor to seep in and over time this heat and moisture build up causes walls to erode, shingles to crack, and plywood to rot. By offsetting the damaging effects of condensation, attic insulation protects your home and keeps it safe and sound. 
Best Insulation For Your Attic: The Product We Stand By
Owens Corning AttiCat Blown-In Insulation
Owens Corning AttiCat Expanding Blown-In Insulation is a quick and easy, clean, safe and reliable means of insulating your home.
At Hollister Roofing, we provide FREE energy conservation inspections which allow homeowners to make informed decisions about their home insulation needs.
If you're interested in discovering how our attic insulation contractors can help you gain an energy efficient home and improve the air quality and comfort in your home, contact us for a quote today!