While the west coast autumn may be pleasant and mild enough, storms and more severe changes in weather are just around the corner. 
Before the rains come, it's a good idea to give your roof a thorough inspection and to make sure it's cleaned of any mold or debris. 
This home maintenance step will help you head off any potential problems you might face over the winter and will help you rest easy knowing your home is safe, secure, and dry.
Tip # 1: Clean Your Roof 
Rotting leaves and other plant life materials often end up on your rooftop over the summer months. 
As the sun beats down, this organic material slowly decomposes and results in mold, fungus, and bacteria growth. 
While taking care of decomposing leaves is a fairly easy fix, it's important to do before the rain starts and the problem only worsens. 
Rains don't usually remove the stuck on debris, and the added moisture over the winter will only exacerbate rot and growth. 
"While a lot of the debris that finds its way up onto your roof will eventually find its way into your gutters where it can be removed, there is some that winds up just lingering on the surface of your home, and this fall, it is important to make sure that anything still sitting up on your roof is cleared away. 
Even small collections of leaves and other organic debris can hold onto moisture, and can eventually lead to mold and mildew, which can start to deteriorate your roof's surface over time. 
If you aren't entirely confident getting up and walking around your roof, it is always a better idea to hire a team of skilled professionals who can get the job done without causing any damage in the process." 
If you aren't afraid to climb a ladder yourself, it's possible to clean your roof with a pressure washer – if you don't have asphalt shingles. Pressure washers work very well for removing dirt, stains, and algae in one step. 
If you do have asphalt shingles, a softer approach with chemical additives will be required. It's also a good idea to treat your roof with chemicals to prevent further mold and algae growth over the winter. 
But a word of caution – your roofing materials will determine which solution is best for you, so do thorough research before treating your roof for algae, or pressure washing.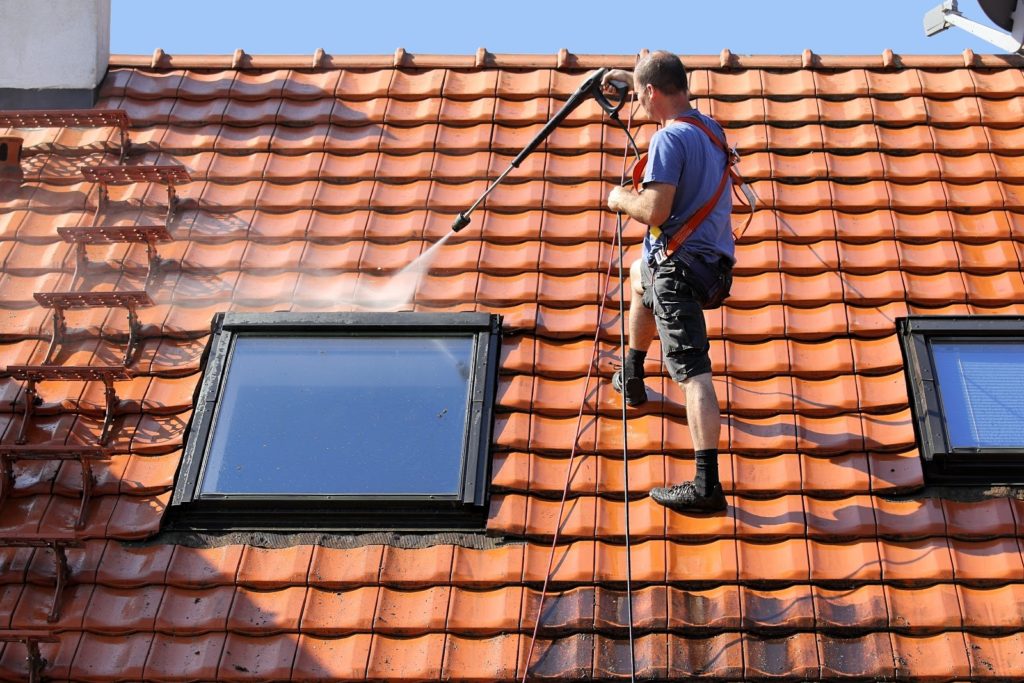 Tip # 2: Give Your Roof An Inspection
Taking the time to give your roof a thorough inspection once it's clean is critical if you don't want to run into any unexpected surprises once the winter rains come. 
Check carefully for signs of water damage, like: 
Buckling, curling, or missing shingles
Rust spots or signs of deterioration on your flashing
Patches of moss – in many cases, this is a sign of decay
If you don't feel qualified to identify problems from your rooftop, it's always a good idea to seek out a professional opinion. 
Experts in roof care will be able to quickly and safely evaluate the state of your roof and make the proper recommendations if needed. 
Tip #3: Inspect Your Attic 
It's not always possible to tell if you have roof damage from the outside alone. 
If you have access to your attic, you will be able to get a much more thorough picture of the state of your roof. 
Once inside your attic, check for sagging boards and any staining. This is a sign of leakage and may indicate that your roof deck needs repairs. 
While you're in your attic, it's a good time to ensure that space is properly ventilated for the fall and winter months. 
Extreme heat over the summer without proper ventilation may have caused lasting damage to your roof deck. 
Using existing roof vents, or getting some installed, is often the best solution to future ventilation problems, so you may want to consider this step in the fall. 
If you're interested in learning more about proper attic and roof ventilation, check out this article by The Family Handyman.
If you run into any needed repairs as you inspect and clean your roof, this season is an ideal time to get those problems professionally addressed. 
"Homeowners often forget that a roof is more than just a set of shingles. 
Getting a new roof in the fall will help insulate and ventilate your home before the colder winter months. 
This could save you money in the long run by allowing your furnace to not have to work as hard. You'll also be saving money year-round because a well-insulated home will offer the same benefits for your AC in the summer."
While no one likes unexpected maintenance costs or to-do lists, it's crucial that you properly care for your roof if you want the rest of your home to stay safe and dry this fall. 
If you're interested in getting a professional evaluation, or you'd like to know the cost of repairs or a roof replacement, contact us at Hollister Roofing for a FREE estimate today.